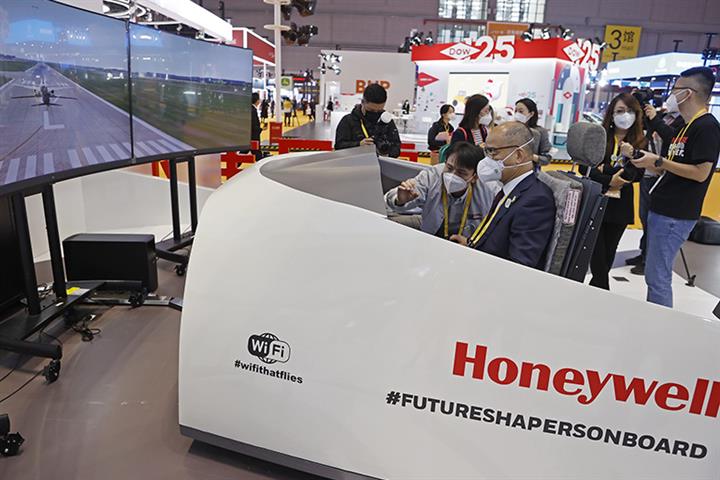 Airshow attendees bullish on China's economy, plan to step up market positioning
(Yicai Global) November 14 — The 14th China International Aviation and Aerospace Show, or Airshow China, wrapped up yesterday, with a number of attendees at the biennial event noting that with the positive long-term fundamentals of the Chinese economy unchanged, they will accelerate improve their market positioning.
Despite the Covid-19 outbreaks, the six-day fair held in Zhuhai, southern Guangdong Province, attracted more than 740 companies from 43 countries and regions to participate both online and offline. About 110 aircraft were displayed on the 100,000 square meter exhibition area.
American conglomerate Honeywell International attended the air show for the seventh consecutive time, with the Charlotte, North Carolina-based company showcasing its auxiliary power units, IntuVue three-dimensional weather radar system and other products.
Honeywell's APUs, flight control systems and engine brake pedals, developed in cooperation with its Chinese partner, are used in the C919, China's narrow-body airliner. Xu Jun, president of Honeywell Aerospace Asia Pacific, told Yicai Global that the company is optimistic about the long-term prospects of the Chinese market and has increased its investment in the country.
During this year's expo, GE Aviation signed an agreement with Taikoo Engine Services Xiamen to allow the ARJ21 regional jet engines to be serviceable in China.
"Covid-19 outbreaks and global political and economic turmoil have to some extent slowed down the recovery of China's civil aviation industry," said Xiang Weiming, global vice president of General Electric, who is also chairman. from GE China and GE Aviation China," but in the long term, the fundamentals supporting China's healthy economic growth will remain unchanged, meaning China will remain the world's largest aviation market.
During Airshow China, the Commercial Aircraft Corporation of China, or COMAC, and Airbus released market outlooks for the next two decades, forecasting deliveries to China of 9,934 and 8,420 aircraft, respectively, between 2022 and 2041, compared to 8,485 for Boeing.
The C919 secured orders from seven aircraft leasing companies at the airshow. COMAC sources said that as deliveries will slowly increase from small to large numbers, few C919s will be released to buyers in the first year.
Publisher: Pierre Thomas