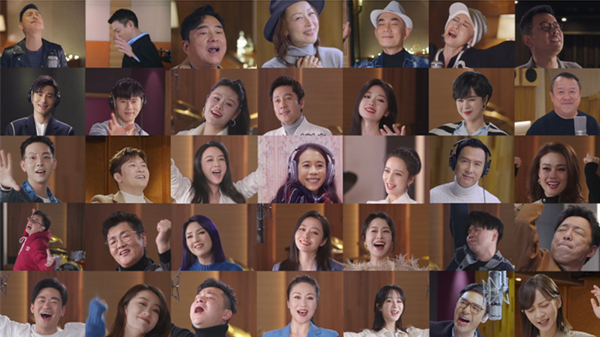 All-Star music video released for Beijing 2022
More than 100 acclaimed Chinese musicians and movie stars came together to sing the already phenomenal song "Together for a Shared Future". His first music video on Tuesday morning to promote the Beijing 2022 Winter Olympics.
The lineup features many dazzling showbiz names including Wu Jing, Chang Shilei, Li Bingbing, Jackson Yee, Chen Kun, Zhou Xun, Xiao Yang, Huang Xiaoming, Jason Zhang, Allen Lin, Jane Zhang, Tong Liya. , Wei Wei, Lay Zhang and Li Yuchun; veteran Hong Kong megastars Jackie Chan, Andy Lau, Alan Tam, Jacky Cheung, Donnie Yen, Nicholas Tse, Coco Lee and Karen Mok; Macau singers Liu Naiqi, Long Zilan and Sofia Paiva; Taiwanese stars such as Shin, Jam Hsiao, Shu Qi and Nana Ou-yang; as well as Penny Tai from Malaysia.
The music video made its online debut on the morning of February 1, during China's Spring Festival and Lunar New Year, followed by its evening TV debut on China Movie Channel. The video's chief director, Fu Jie, said the creation of the all-star short film took more than 20 days, as it was shot in several cities, including Beijing, Shanghai, Shenzhen, Hong Kong, Macau, Taipei and Bangkok. The full video is approximately 11 minutes.
Even before the star performance, the song, composed by Chang with lyrics written by Wang Pingjiu, has already gone viral and become a cultural phenomenon in Chinese society. It was first sung as a duet by William Chan and Tia Ray in September 2021 to promote Beijing 2022. Then in November, young superstar Jackson Yee released a music video for a new version with a viral dance routine, which later went viral. been played in public places. , schools and other public institutions throughout China, making the song a domestic pop hit. Statistics show that as of noon on January 24, there were 17.44 billion views related to the song and 53.19 million interactions online. Over 45,000 covers have been uploaded to the web by amateur artists and other artists.