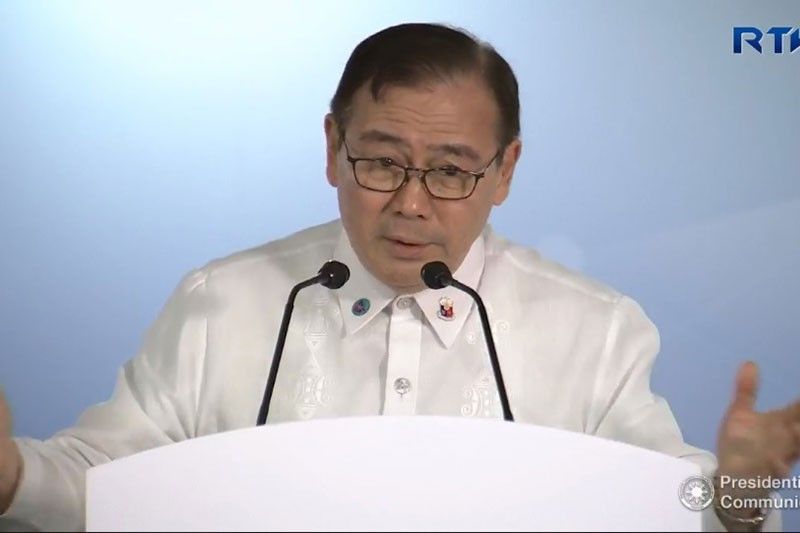 Locsin: Chinese weather stations "do not claim ownership"
[ad_1]
November 15, 2018 | 6:08 p.m.
MANILA, Philippines – Foreign Secretary Teodoro Locsin Jr. said on Thursday he would question the military about Chinese weather stations on man-made islands in the West Philippine Sea, but said they did not appear be an affirmation of sovereignty.
He said the media could also have verified China's claims. "I think you should check it out yourself first." If you've heard that, it's very easy to just hover over it. I mean, don't you have that ability?
Although the media have filed reports on parts of the South China Sea, they usually do so by joining military patrols.
RELATEDFilipino plane receives warning for flying near Chinese man-made island
"We cannot respond to something that just pops up on the internet," he also said.
Informed that the Chinese Foreign Ministry had made the announcement on weather stations, he replied, "And they call them weather stations… you take their word for it then?
"I don't understand… what do you want us to do?" he also said.
"China has announced that it has installed weather stations … There you go … I don't think these are property claims, [or] they are claims of sovereignty. These are weather stations. I would ask the military later what they think about it, "said Locsin.
On November 1, China's Foreign Ministry confirmed that Beijing had started operating a maritime observation center, weather observatory, and national environmental and air quality monitoring stations on the Spratly Islands. .
Despite this announcement by the Chinese government itself, presidential spokesman Salvador Panelo said the Philippine government should "investigate whether it is true or not."
"It is in a bad interest to validate any claim, whether for or against this government or for or against their own government," Panelo said earlier.
DFA must take "appropriate measures"
Earlier this month, the Foreign Ministry said it was coordinating with the Philippine Embassy in Beijing, as well as relevant government agencies, to verify China's establishment of weather stations on the reefs claimed by Manila.
"The department will take appropriate action if these reports are validated," DFA spokesman Elmer Cato said.
When asked if the Philippines would file a protest against China for installing weather stations in the Spratleys, Locsin said he preferred to "talk" because he insisted whenever other countries urged the Philippines to do so during his time at the United Nations.
"Whenever you send a note verbale and no one responds to it, what does it look like?… I don't send notes verbale to people who don't even respond," Locsin said. .
Shipping experts have urged the Philippine government to protest Beijing's weather stations on the Spratly Islands because they also serve military purposes.
Jay Batongbacal, director of the Institute for Ocean Affairs and the Law of the Sea at the University of the Philippines, warned that acceptance of "public goods" could be seen as acquiescence in China's control over the waterway contested.
The Philippines should protest this latest move by China, as it is definitely part of the larger effort to assert China's long-term sovereignty / rights claims and unilaterally impose its position on other riparian states. "Batongbacal said earlier.
[ad_2]