Talking about the Olympics and winter sports with China Sports Insider founder Mark Dreyer
As the Beijing 2022 Winter Olympics continue, we decided to get some inside information from one of our favorite sports analysts, Mark Dreyer, founder of China Sports Insider. Mark is originally from the UK, but has been in Beijing since 2007.
Mark's sports knowledge is sought after by different media around the world, being often called upon to comment on sports in China by Bloomberg, CCTV, Financial Times, CNBC and the BBC. His repertoire of sports reporting is elite to say the least and he has interviewed some of the world's best, including Beckham, Pelé and many more.
As well as having recently written a book about China's quest for sporting supremacy, Mark witnessed the first Olympics in Beijing in 2008, and we are delighted to share some of his knowledge, predictions and thoughts on the Olympics. of this year and the general development of sports in Beijing and all over China.
What first brought you to China?
I first came to China at the very end of 2007. I was living in New York at the time, working for Fox Sports, and my wife was starting a company that was partly based in the United States and partly in China. The Olympics were approaching on my horizon, so we were like, "Hey, let's go for a year. What's the worst that can happen?" 15 years later, we are still here.
Tell us what you think of the evolution of the sport since your arrival in China.
There have been three major waves of growth. After the 2008 Olympics, there was a bit of a slowdown. But in 2014 the government released a policy document detailing plans for the development of the world's biggest sports industry and it really changed things.
The first wave was soccer 2015; we had a big 50-point plan that they struggled to implement, but they tried and we've seen some kind of rise – and now collapse – in some areas.
The second wave was in winter sports, because Beijing won the 2022 Olympic bid in the summer of 2015, which turbocharged the winter sports growth engine.
The third wave is what we call mass participation, which was a more organic wave of people getting into sports like running, swimming, fitness, gyms, yoga and all that kind of stuff.
What are some of the differences you see between the 2008 Olympics and this year's 2022 Games?
There is a big difference in scale between the Summer and Winter Olympics, and of course 2008 was much more festive because it was outdoors. It's a cliché to say, but 2008 was truly China's coming out party on the world stage and I think it went fantastically. From the opening ceremony to all the events, everyone was impressed and China was certainly very happy.
This year, the geopolitical temperature is very, very different in China. Covid has of course been a huge challenge for everyone, so mostly people are just trying to get through this one without too many setbacks. As a sports fan, especially the Olympics, this pains me.
Covid has changed many factors for this year's Olympics in Beijing. Despite this, what are the positive aspects for the city and for China?
What is really interesting is that people have really embraced the development of the winter sports industry. China has never had problems building infrastructure – ski resorts, ice rinks, etc. – but people have to use them, and they have succeeded. It's encouraging to see. It's one thing to have a goal, but it's another to put it into action.
As a Chinese sports insider, can you give us some of your predictions on the top medal contenders or athletes to watch at this Olympics?
Eileen Gu is kind of a no-brainer, and in addition to her recent gold medal in Freestyle Big Air, she has two more chances in halfpipe and slopestyle.
As well, Sun Jiaxu for men's jumps. China has a bunch of suitors, they had I think four people who could all have a chance, but this guy has had a good last few weeks. Anyway, I think China has a very good chance of winning a medal – maybe gold – in this event.
Nine months ago we were watching an absolute horror show for the China men's ice hockey team, because it looked like it would be a group of young Chinese against the NHL All Stars. But what happened was that China got permission to sign 'historical players' (some North American players of Chinese descent).
Meanwhile, the NHL players have retired, so I think China's games against the United States and Canada will be much more competitive. It's going to be a very interesting game, especially because China have played together all season as a team, and the North Americans are basically meeting for the first time, so they're going to have to adapt very quickly. Nobody even gave China a chance to score a goal, but I think they will score goals, that's my prediction!
Are there any other interesting changes in the dynamics of the Chinese Olympic team?
Historically, for winter sports, it has been mainly people from the northeast of the country, people who grew up in the cold regions where skiing and skating came naturally to them. China has set up an interdisciplinary recruitment program specifically for these Games. Thus, track and field athletes, long jumpers, distance runners, rowers, gymnasts, etc. were reassigned to new sports and learned new disciplines. So that means you have athletes from Yunnan Province and even remote autonomous regions. In the past, it was something crazy like around 50% came from Harbin city, but that is changing.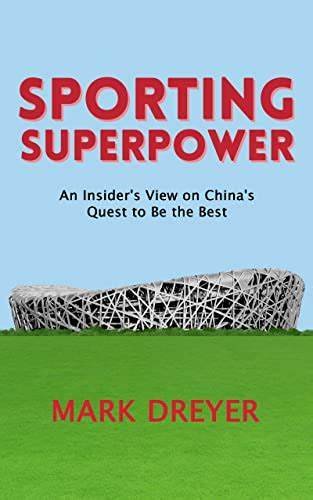 Can you tell us a bit about your new book?
The book is called Sports superpower: An insider's view on China's quest to be the best. It's about the progress China has made since 2008 in its quest to build the world's greatest sports industry – ups and downs – and the title pretty much sums it all up. There are plenty of personal and insider stories, interviews and analysis too. I'm biased, of course, but I think it's entertaining reading – perfect reading as the Olympics go on or even after they're over!
What are your predictions for the future of sport in Beijing and China?
I still think the main drivers are, first, the initial push of this government policy, and second, the more organic push of the Chinese people who see more value in sports and are themselves more active. Today people want to involve their kids more in sport and I think that's what makes me really optimistic about the future of sport here.
Sport is now seen as a legitimate part of the economy. It's not the biggest thing on China's radar, but sport is now part of the economy, and it makes people happier and healthier, so I think in many areas we we are always going in the right direction.
What do you think are the three most significant sporting moments in Beijing/China?
Ok, the top three, I'm going to limit it to my time in China again, so from 2008 until now, in my opinion, the number one must be Li Na who won the French Open 2011. I think it was really important and it really put China on the world tennis map.
Secondly, I've done a lot of motor racing commentary since my time here, since 2013 I've been on several racing series that aired on Fox Sports Asia, in terms of reporting, presentations and commentary; so I got to know a lot of pilots. Zhou Guanyu is now in Formula 1 for the first time this year, which is an extremely important moment for China and for motorsport in China. He's a good guy, he's very polite, he speaks very good English and he's very presentable. I think fans around the world will really like it, and it could revolutionize motorsport in China.
The third comes from 2017 and it's an episode that I examine closely in the book. The Chinese president was visiting the Olympic venues in Zhangjiakou and was wearing an ANTA-branded jacket. It's not often that the leaders of any country wear designer clothes, and it's certainly not common in China either, but it was extremely important, because it meant that China was not embracing not only global sports, but also developing its own sports industry, so the support of a local brand like ANTA was significant. It wouldn't surprise me if we see the president wearing ANTA clothes in the next few days, with Team China. It would be a very proud and patriotic moment for many in the country.
READ: And the big star of Beijing 2022 is…Bing Dwen Dwen?
Images courtesy of Mark Dreyer