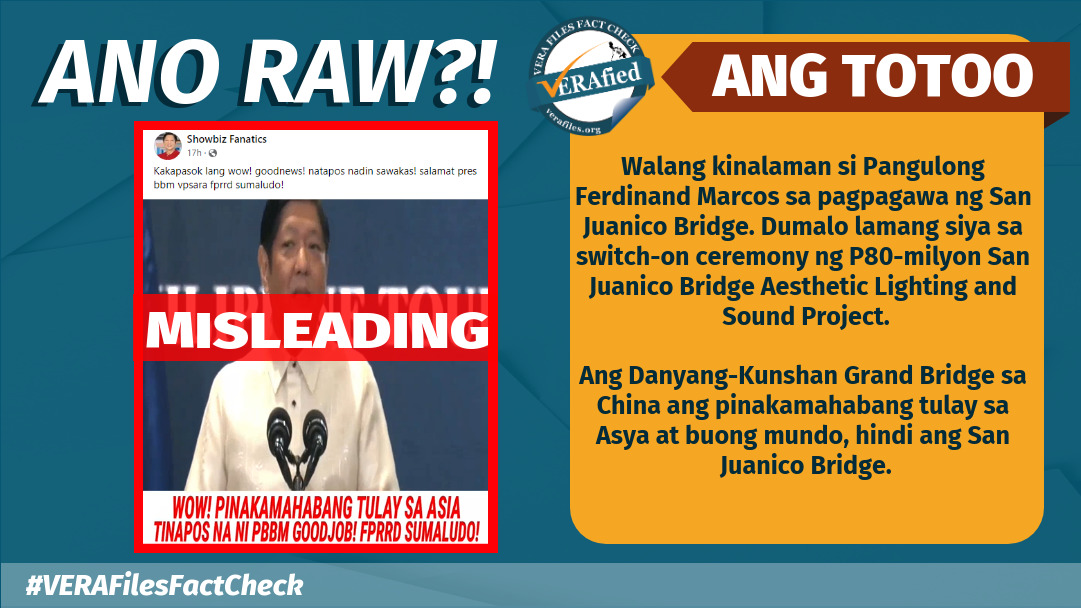 VERA FILES FACT CHECK: Marcos Jr. DIDN'T 'complete' Asia's longest bridge
A Facebook (FB) video used a misleading headline claiming that President Ferdinand Marcos Jr. has completed Asia's longest bridge.
The video, posted on October 18, referred to the 2.16 kilometer long San Juanico Bridge connecting the islands of Samar and Leyte.
The misleading title said:
"WOW! PINAKAMAHABANG TULAY SA ASIA TINAPOS NA NI PBBM GOOD WORK! FPRRD SUMALUDO (PBBM COMPLETED ASIA'S LONGEST BRIDGE! FPRRD SALUTE)!"
The video, however, carried a new report about the October 19 lighting ceremony of the lighting project and its aesthetics of the 80 million peso San Juanico Bridge.
It also featured Marcos Jr. speech at the Philippine Tourism Industry Convergence Reception, where he recognized tourism as the engine of the country's economy.
Marcos Jr. was not involved in the completion of the San Juanico Bridge. The viaduct was completed in 1972 under the direction of Ferdinand Marcos Sr. administration. It is the aesthetic project of the bridge which has just been completed and its lighting ceremony was assisted by Marcos Jr.
The San Juanico Bridge is also not the longest in Asia. This distinction is held by China's 165-kilometre-long Danyang-Kunshan Great Bridge, with its guinness world record for the longest bridge in the world since 2011. Some sources say the San Juanico Bridge once held the title.
Thanks to the initiative of the provincial government of Samar, the department of tourism approved financing of the lighting project in 2017. Its construction began in 2019 with the aim of "boosting sustainable local tourism in the province". The Completion date has been postponed several times due to rehabilitation works, pandemic restrictions and electricity supply problems.
The Cebu-Cordova Link highway is now the longest bridge in the Philippines, a title previously held by the San Juanico Bridge.
The San Juanico Bridge remains the longest bridge on the Pan-Philippine Highway that connects Luzon to Mindanao.
The video of the previously verified page showbiz fanatics (created on July 17, 2022) has garnered 55,000 views, 3,600 reactions, 352 comments, and 339 shares. Other FB pages, such as Duterte News Update (March 15, 2022) and Viral Trends Update (April 5, 2022) also shared the post. The same video was reposted by the YouTube channel BANAT NEWS TV (premiered on December 16, 2015) drawing 248,000 views.
Have you seen any questionable claims, photos, memes or posts online that you want us to check? fill this reader request form.
(Editor's note: VERA Files has partnered with Facebook to combat the spread of misinformation. Read more about this Partnership and our methodology.)